THANK YOU!
From Walter L Griffith Jr:
I would like to thank everyone in Luzerne County that supported me in one way or another in my quest to become the next Luzerne County Controller. The people have spoken and I am delighted to be the next Luzerne County Controller.
"Watchdog" moves to the front row | timesleader.com - The Times Leader
Richard L. Connor | Opinion | "A Vote of Confidence for the Good Guys" | timesleader.com
Walter Griffith Jr. | Opinion | timesleader.com - The Times Leader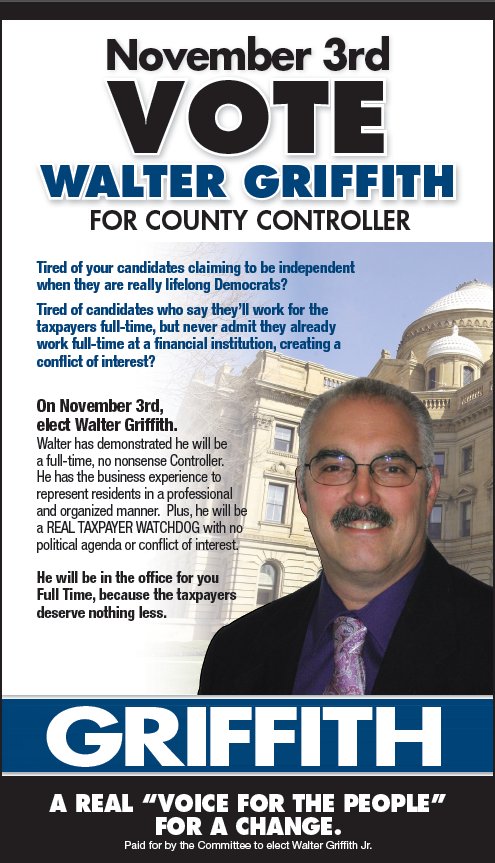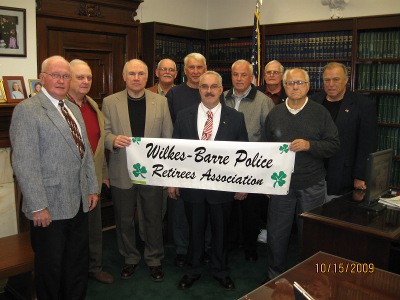 The Wilkes Barre Police Retirees have endorsed Walter L Griffith Jr for Luzerne County Controller. The Wilkes Barre Police Retirees recently endorsed Mr Griffith in his quest for the position of County Controller. Mr Griffith gave a presentation to the group and was unanimously supported by the organization and has the support of the membership.
President
Gerald Cookus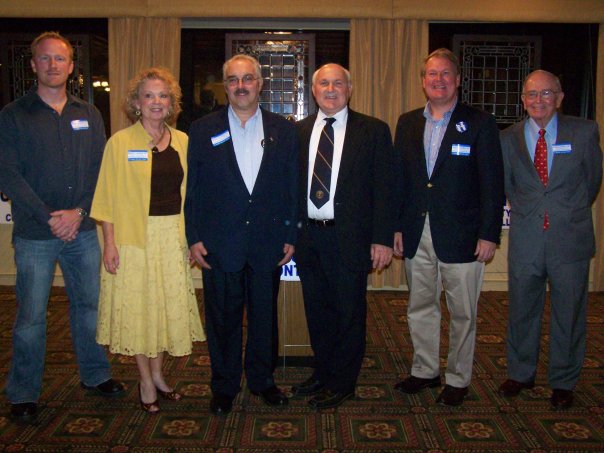 These people are supporting Walter Griffith for Luzerne County Controller. R to L: Harry Haas(Wilkes-Barre School Board Candidate), Carolee Medico Olenginski(Luzerne County Prothonotary Candidate), Walter L. Griffth Jr. (Luzerne County Controller Candidate), Stephen A. Urban (Luzerne County Commissioner), Richard Hughes (Candidate for Judge of Common Police Court), Charles Lemmond (Retired State Senator)
Saturday July 25, 2009 07:24
My name is Walter L. Griffith, Jr. I am a 54-year-old family man and a lifelong resident of Luzerne County. I am pleased and proud to introduce myself to every taxpayer and citizen of Luzerne County as your 2009 Candidate for Luzerne County Controller.
My background regarding my qualifications for this very important position in County Government is that I currently own and manage my own Auto Repair business and have done so very successfully since 1989. I am also very active in managing an organization that is responsible to submit a budget and balance our books each year, as well as organize and facilitate the operation of an organization that covers 4 states.
I am very active in Wilkes-Barre City Government, as well as Luzerne County Government, and have been very active in the daily operations of these governments for the taxpayers of the City and County. I have made much progress in being sure that our elected officials are held accountable to us - the taxpayers.
My presence at most County and City meetings has prompted our elected officials to be more aware of the desires of the taxpayers as well as the best way to operate your government.
I am running as your County Controller candidate and have demonstrated time and time again my desire to represent each and every taxpayer and citizen in Luzerne County by my constant asking of the "tough questions" of your elected officials and will continue to do this on your behalf if elected as your County Controller in 2009.
I represented "YOU" the taxpayers when the County Commissioners were going to plunge the County into more debt with regard to the 16 million dollar loan and was successful in representing "YOU" by having that amount reduced to only 5.6 Million.
I also was at the meetings to represent "YOU" when the Debit Card issue was happening and I feel the Controller should have known about this long before the people were swindled out of thousands of dollars.
I was at the courthouse when 21st Century Appraisals were doing our appraisals in a very shoddy and haphazard way that has cost the taxpayers of this County thousands of dollars.
I was at the Courthouse when the Salary Board was not functioning according to the law of the County Code as well and was very instrumental in helping your elected officials cut spending by my information.
My background politically is very simple…I am not related to any one in Luzerne County that works in the courthouse and I will not bankrupt my moral or ethic character to get elected to any position in government.. I will promise you that I will always be in the Office of County Controller and will work to bring "honesty and integrity" back to Luzerne County Government by having Honesty and Integrity that you can trust and rely on in a person that you are voting for in government.
My past history and track record will speak for itself and please remember these quotes on May 19th 2009 when you are casting your vote for County Controller…